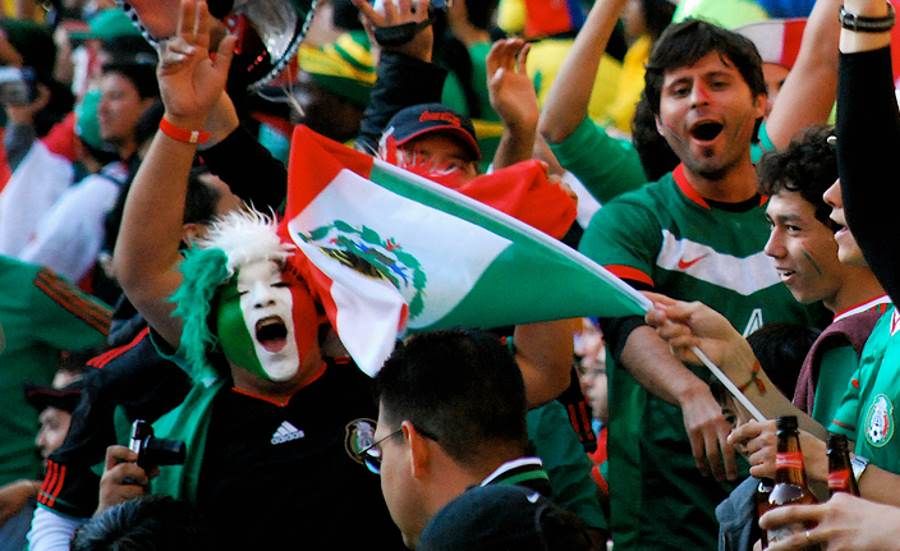 The joy of Mexico's fans was recorded by seismographs
The joy of Mexico's fans was noted by seismographs
When Mexico beat Germany 1-0 at the World Cup in Russia on Sunday, the joy was so great that the Earth shook. Scientists in the Mexican capital were astonished when seismological equipment that monitors crustal activity informed them that tremors.
Around 10:35 a.m. local time on Sunday, June 17, two seismic sensors in the Mexican capital detected a small earthquake after the Mexican soccer team scored a goal in a match against Germany at the World Cup in Russia.
This was not natural seismic activity, but an artificial quake triggered entirely by Mexican fans in soccer, which ers jumping for joy caused the seismologist to be amazed. Millions of fans gathered in fan zones set up in many parts of the capital to watch the players struggle together. About 75,000 fans gathered in the central zone .
According to the Mexican institute IIGEA (Instituto de Investigaciones Geol gicas y Atmosféricas – Institute of Geological and Atmospheric Research) reported "A small earthquake artificially caused probably by fans jumping for joy In celebrating the goal scored against Germany".
Fan joy were also picked up by two seismic sensors belonging to SIMMSA (IIGEA seismology facility) deployed in the Mexican capital. "It is likely that the tremor was not perceptible to the locals in the capital, but nevertheless created enough noise to register on many seismic instruments" – wrote researchers at the institute.
Hirving Lozano's shot giving Mexico the lead was spotted also by a seismologist of Chile. Researchers wrote on social media about the activity they noted "unnatural vibration", for kt ria were responsible "coordinated fan jumps ".
El #sismo detectado en la Ciudad de México se origin de manera artificial. Posiblemente por saltos masivos durante el Gol de la selecci n de #México en el mundial. Por lo menos dos sensores dentro de la Ciudad lo detectaron a las 11:32. pic.twitter.com/mACKesab3b

— SIMMSA (@SIMMSAmex) June 17, 2018
To be clear, the joy of the crowd did not trigger the shifting of tectonic plates. Such vibrations have been observed before during sports or mass outdoor events. Such tremors can indeed be considered earthquake-like shaking – the vibrations occur in the ground and are detected by monitoring devices.
However, they are clearly that are different from earthquakes of natural origin. They are not caused by tectonic or volcanic activity and have no clear epicenter, as the agitation occurs at several points.
Among the largest such tremors include those from 2011, when Seattle Seahawks (American soccer team) fans reacted to the touchdown with an outburst of joy, kt ry produced a magnitude 2.0 tremor on a nearby seismological device.
As the SIMMSA researchers explained, even when the earth shakes in such events, it causes only minor tremors in the cf n relation to actual seismic activity. This type of activity can only be detected by sensitive equipment or instruments in the vicinity of the artificial shaking agent, the crowd in the people.
. That reaction from the Zocalo in Mexico City to Chucky Lozano's goal. pic.twitter.com/PcyHyfit9w

— FOX Soccer (@FOXSoccer) June 17, 2018
Source source: Live Science, The New York Times, fot. CC BY 2.0/ Flickr/ Mexico's Fans at Soccer City